To receive future notifications of when stock is available please create an

account
and subscribe to our newsletter, or follow us on facebook and Twitter as we often post updates there.


We don't sell your personal information unlike most Evil Corporations and we only send you newsletters if you have opted in.
Upgrade to an RGB SCART! This cable supplies an RGB video signal from a consolised Neo Geo MVS from Arcade Works (https://www.arcadeworks.net) known as the Omega Entertainment Machine which will enable connection to a regular SCART TV. This cable is screened to minimise interference. This cable is screened to minimise external interference and cable crosstalk between signals. This is achieved by using our new PACKAPUNCH cable which has individually shielded wires for RED, GREEN, BLUE, SYNC, audio and also the DC voltage line which is used for RGB selection on your video receiving equipment.

Why upgrade to a PACKAPUNCH cable?:
Protects against external magnetic interference.
Protects against crosstalk between individual signals inside the cable.

Available in various lengths.
Features:
True RGB video and Stereo sound.
Constructed from custom screened cable especially made for

Retro Gaming Cables

.
Compatible with:
New features
Fully wired/ grounded SCART plug using a custom Printed Circuit Board.

Optional upgrade to RCA / Phono breakout for use with SCART to Component video converters which don't extract audio from the SCART cable.
Need to breakout audio from your SCART cable? Check out this in-line adapter which extracts audio whilst maintaining the audio through the SCART cable.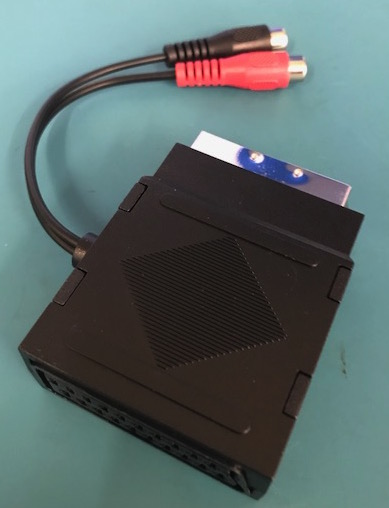 All cables are tested before dispatch. Made in Great Britain. This is not an official SNK Product.

Compatibility
Region
All Regions
Video and audio format
RGB video?
YES
Audio type
Stereo sound
Cable construction
Shielded?
YES
Connector A
9pin Mini DIN
Connector B
EuroSCART
Lead Length
1.5m
Weight
110g
Omega CMVS PACKAPUNCH RGB SCART cable
Related Products
Tags: rgb, scart, PAL, NTSC, arcade, jamma, supergun, CMVS