We now stock PACKAPUNCH cables for immediate dispatch!
To receive future notifications of when stock is available please create an account and subscribe to our newsletter. We don't sell your personal information unlike most Evil Corporations and we only send you newsletters if you have opted in.

This video sync separator version of the EuroSCART to XRGB-mini adapter, also known as a "sync stripper" takes a "sync over composite video" input and removes the composite video aspect of the signal thus outputting a clean composite sync signal, also known as "CSYNC", "pure sync","raw sync" or just "sync". This is achieved using a built in video sync separator circuit called the LM1881 chip. Also works with sync over luma cables.


This cable is supplied with a external power cable which plugs into the XRGB-mini USB port, which is then used to power the sync separator, which means you don't have to worry about your SCART cables having the required voltage on pin 8. Therefore this cable will be compatible with all EuroSCART RGB cables.



Generally for Framemeisters with Firmware 1.08 and above you can use a passive version of this adapter. For older firmware you may experience sync problems when using a "sync over composite video" cable, therefore for older firmware we recommend the EuroSCART to mini adapter with built in video sync separator to achieve composite sync (CSYNC).

A composite sync (CSYNC) signal eradicates timing problems often experienced with the XRGB mini up-scaler when connected to particular gaming machines, so even with the latest firmware you may still need a video sync separator if your SCART cable can only supply sync over composite video.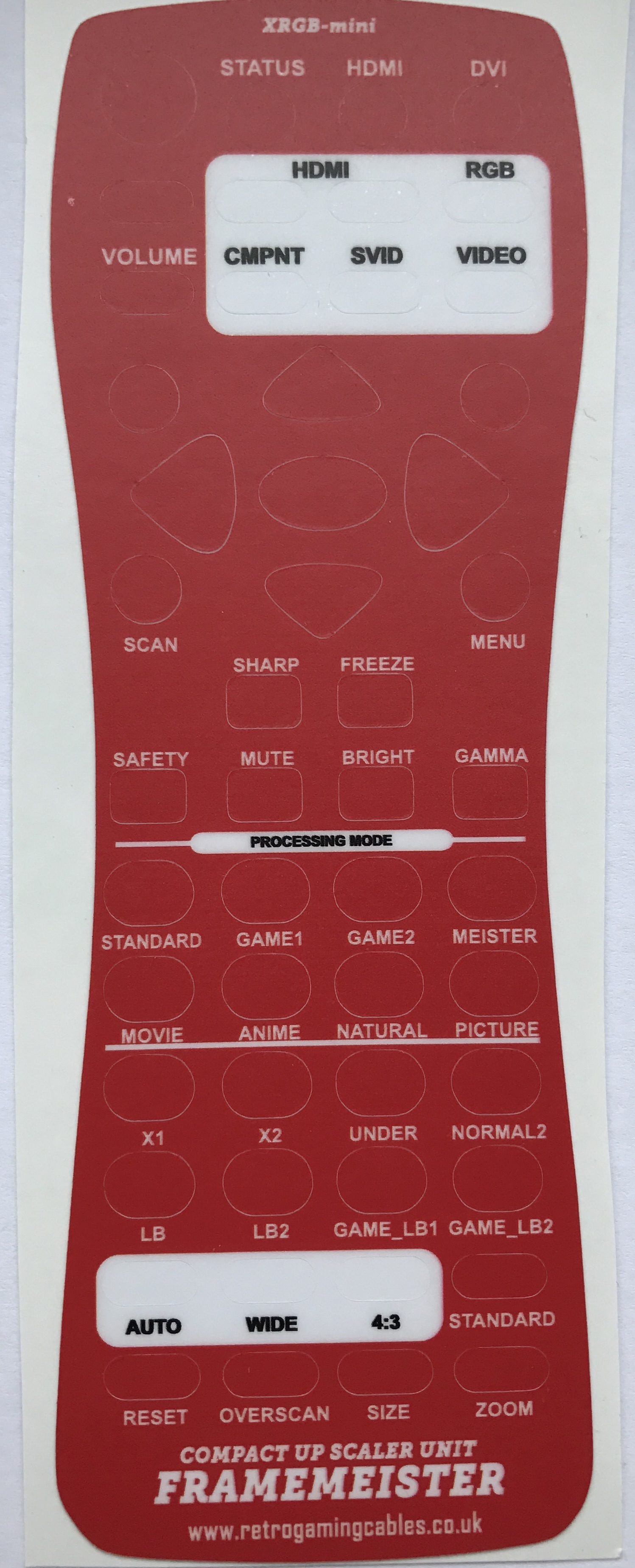 Various coloured English overlays available for the XRGB-mini remote control


Featured in Classic Game Room
The overall cable is screened with metal foil shielding to minimise interference. All cables are tested before dispatch. Made in Great Britain. This is not an official Micomsoft product.
The option external power cable version of this adapter which is powered via the USB output of the Framemeister XRGB-mini is the copy write ownership of Retro Gaming Cables.
Compatibility
Region
PAL, NTSC
Video and audio format
RGB video?
YES
Sync type
This adapter accepts "sync over composite video", "sync over luma" and "composite sync (CSYNC)". In all three cases the output to the XRGB-mini will be "composite sync (CSYNC)" which is achieved using the built in video sync separator.
Audio type
Stereo
Cable construction
Shielded?
YES
Connector A
Female EuroSCART
Connector B
8 pin mini DIN
Lead Length
0.2m
Weight
40g
CSYNC EuroSCART to Framemeister XRGB-mini adapter
Related Products