RGB EuroSCART / European SCART to 8pin Mini DIN adapter for the Micomsoft Framemeister XRGB-mini. This is a direct replacement cable for the original Japanese 21 pin adapter supplied with the Framemeister unit. This replacement adapter allows the connection of games consoles and computers via RGB EuroSCART cable to the XRGB-mini Framemeister up-scaler unit, such as the Sega Mega Drive/Genesis, Super Nintendo, SNK Neo Geo etc. EuroSCART cables are more readily available than the Japanese 21 pin cables, so this adapter will increase the number of consoles you can connect to your Framemeister. This adapter is available as either a passive adapter or with a built in video sync separator.
Generally for Framemeisters with Firmware 1.08 and above you can use a passive version of this adapter. For older firmware you may experience sync problems when using a "sync over composite video" cable, therefore for older firmware we recommend the EuroSCART to mini adapter with built in video sync separator to achieve composite sync (CSYNC). A composite sync (CSYNC) signal eradicates timing problems often experienced with the XRGB mini up-scaler when connected to particular gaming machines, so even with the latest firmware you may still need a video sync separator if your SCART cable can only supply sync over composite video.
This video sync separator version of the EuroSCART to XRGB-mini adapter, also known as a "sync stripper" takes a "sync over composite video" input and removes the composite video aspect of the signal thus outputting a clean composite sync signal, also known as "CSYNC", "pure sync","raw sync" or just "sync". This is achieved using a built in video sync separator circuit called the LM1881 chip.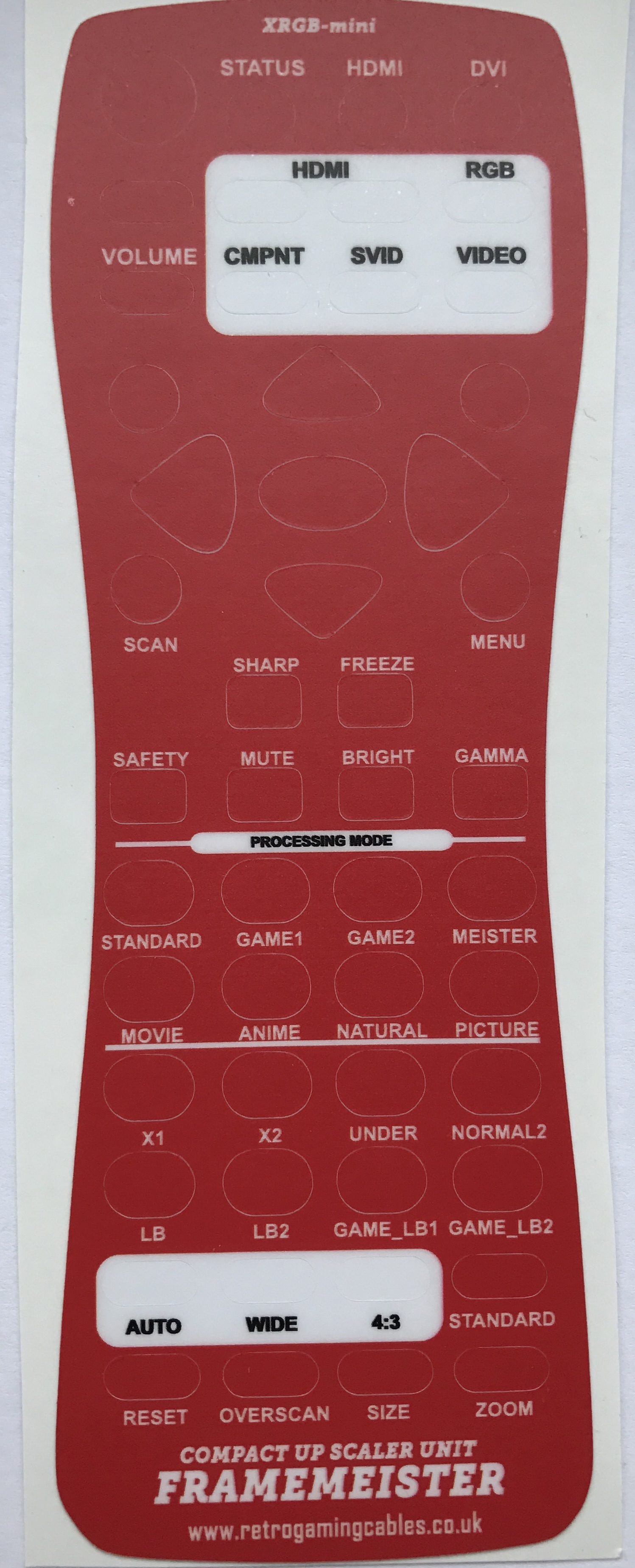 Various coloured English overlays available for the XRGB-mini remote control



Power requirements for (CSYNC) video sync separator:
Requires a EuroSCART cable which is wired for either 5 volts or 12 volts on pin number 8 of the SCART plug. This is needed to power up the LM1881 video sync separator circuit and without this required voltage you will not get a picture on your Framemeister. Please see diagram below which shows the location of pin 8 . If there is a wire attached to this pin then you should be good to go. If you are unsure whether your cable is wired correctly please contact us for assistance. All video game console RGB SCART cables from Retro Gaming Cables are compatible with the video sync separator version.

Alternatively this cable is available with a external power cable which plugs into the XRGB-mini USB port, which is then used to power the sync separator, which means you don't have to worry about your SCART cables having the required voltage onpin 8. For this external power cable option please select "Extracted from XRGB-mini via USB cable" from the Available Options for this product, subject to availability.

The overall cable is screened with metal foil shielding to minimise interference. All cables are tested before dispatch. Made in Great Britain. This is not an official Micomsoft product.
The option external power cable version of this adapter which is powered via the USB output of the Framemeister XRGB-mini is the copy write ownership of Retro Gaming Cables.
Compatibility
Region
PAL, NTSC
Video and audio format
RGB video?
YES
Sync type
This adapter accepts "sync over composite video", "sync over luma" and "composite sync (CSYNC)". In all three cases the output to the XRGB-mini will be "composite sync (CSYNC)" which is achieved using the built in video sync separator.
Audio type
Stereo
Cable construction
Shielded?
YES
Connector A
Female EuroSCART
Connector B
8 pin mini DIN
Lead Length
0.2m
Weight
40g
CSYNC EuroSCART to Framemeister XRGB-mini adapter
Related Products