To receive future notifications of when stock is available please create an account and subscribe to our newsletter. We don't sell your personal information unlike most Evil Corporations and we only send you newsletters if you have opted in.


FOR RGB MODIFIED AMERICAN and Japanese NTSC N64 consoles only! This cable supplies an RGB video signal and stereo sound from an Nintendo N64 which has been modified to output RGB video only, which is far superior than the original video cable, plus with an RGB SCART there is no need for TV tuning, simply plug and play. This cable is screened to minimise interference , the SCART plug audio ground is connected to reduce the buzzing noise often experienced with some cables, and both ground pins 5 and 6 on the Multi AV connector are connected via separate wires to the SCART plug to also help reduce noise.
It also benefits from internal capacitors connected in series with each RGB video line to remove any direct current (DC) signals, which may impede the true alternating current signal used in signal transmissions. Available with CSYNC here.
Features:
No Tuning required, just plug and play.

True RGB video & stereo sound.

Constructed from custom screened cable especially made for

Retro Gaming Cables

.
Wired for sync over luma. Please select desired sync type from the options. For further information on sync types please our Demystifying RGB Sync guide. The "sync over luma" is for the NTSC console only, as the PAL console doesn't output s-video which is needed for "sync over luma".

New features
Fully wired/ grounded SCART plug using a custom Printed Circuit Board.

Custom over-molded MultiAV plug with integrated strain relief, manufactured in-house using injection-mould machine.

Custom ID label on SCART plug.

Optional upgrade to RCA / Phono breakout for use with SCART to Component video converters which don't extract audio from the SCART cable.

Quality Panasonic Capacitors
Compatible with:
Please note that this N64 cable will only work with an NTSC Nintendo N64 which has been modified to output RGB video only! For further information on how to modify your N64 for RGB video please visit this excellent modification guide by retroRGB.com. Many customers who own the PAL French RGB modified N64 have had great success with using the GameCube RGB SCART cable on their N64. All cables are tested before dispatch.
Need to breakout audio from your SCART cable? Check out this in-line adapter which extracts audio whilst maintaining the audio through the SCART cable.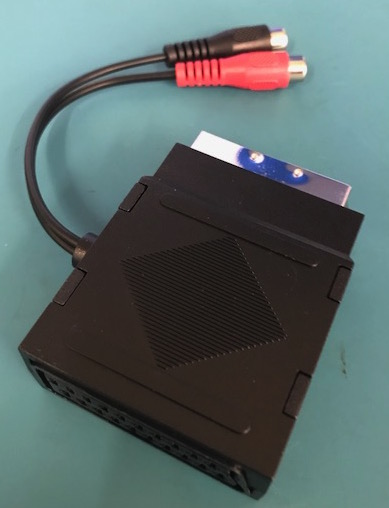 Made in Great Britain. This is not an official Nintendo Product. The SCART Printed Circuit Board Design is Copyright © of Retro Gaming Gables.
Compatibility
Console
US and Japanese NTSC N64 models with RGB modification only.
Video and audio format
RGB video?
YES
Sync type
"sync over s-video luma"
Audio type
Stereo
Cable construction
Shielded?
YES
Connector A
Nintendo AV Multi Port.
Connector B
EuroSCART / Péritel
Lead Length
1.5m
Weight
110g
Nintendo N64 RGB SCART cable for RGB modified NTSC console Sync on Luma
Related Products
Tags: rgb, scart, nintendo, NTSC, Video Games Console