To receive future notifications of when stock is available please create an account and subscribe to our newsletter. We don't sell your personal information unlike most Evil Corporations and we only send you newsletters if you have opted in.


Blow your mind with an SNES RGB SCART! This cable supplies an RGB video signal and stereo sound from your Pal Super Nintendo which is far superior than the original video cable, plus with an RGB SCART there is no need for TV tuning, simply plug and play. This cable is screened to minimise interference , the SCART plug audio ground is connected to reduce the buzzing noise often experienced with some cables, and both ground pins 5 and 6 on the Multi AV connector are connected via separate wires to the SCART plug to also help reduce noise. It also benefits from internal grounding resistors for impedance matching, which are often fitted to transmission line to minimise wave reflections and to maximise power! This cable is wired for "sync over luma" which takes the sync signal from pin 7 of the Multi-AV out which is normally reserved for use with s-video, but the resulting picture is far superior than the regular "sync over composite video" (Multi-AV pin 9), which can suffer from a checker-board effects on screen. Therefore this special "sync on luma" cable gives solid colours. This cable is also available with a built in sync separator circuit here.
Features:
No Tuning required, just plug and play.

True RGB video & stereo sound.

Constructed from custom screened cable especially made for

Retro Gaming Cables

.
Wired for "sync on luma" to give the best RGB picture from your PAL SNES. For further information on sync types please our Demystifying RGB Sync guide.

New features
Fully wired/ grounded SCART plug using a custom Printed Circuit Board.




Wired for sync over luma to eradicate the checkerboard effect.

Custom over-molded MultiAV plug with integrated strain relief, manufactured in-house using injection-mould machine.


Custom ID label on SCART plug.

Optional upgrade to RCA / Phono breakout for use with SCART to Component video converters which don't extract audio from the SCART cable.

UPGRADE TO OUR PACKAPUNCH PRO CABLE

HERE

!
Compatible with:
Please note that this version of our SNES cable (Pal) will only work with original SNES consoles released in the United Kingdom, Europe and Australia. If you have a North American console (NTSC version) then you will need an NTSC Super Nintendo Entertainment System RGB SCART cable.
Need to breakout audio from your SCART cable? Check out this in-line adapter which extracts audio whilst maintaining the audio through the SCART cable.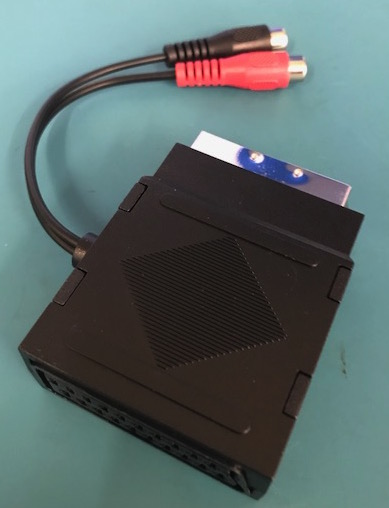 All cables are tested before dispatch. Made in Great Britain. This is not an official Nintendo Product.
---
If your Nintendo console has the 12 pin MULTI OUT or AV OUT port then please read this
article
because even though the ports look the same on each console you may need different cables for each system.
Compatibility
Console
PAL Super Nintendo Entertainment System only.
Region
PAL
Country
United Kingdom, Europe and Australia.
Video and audio format
RGB video?
YES
Sync type
"sync over s-video luma" (luma sync)
Audio type
Stereo
Cable construction
Shielded?
YES
Connector A
Nintendo AV Multi Port.
Connector B
EuroSCART / Péritel
Lead Length
1.5m
Weight
110g
Nintendo Super SNES RGB SCART cable SYNC on LUMA for PAL console
Related Products
Tags: rgb, scart, nintendo, PAL, Video Games Console