To enable the use of RGB games consoles and RGB computers with an Extron RGB interface. This adapter also converts "sync over composite video" into a composite sync (CSYNC) signal using a built in sync stripper circuit. A composite sync (CSYNC) signal is required when using analogue RGB equipment in conjunction with Extron video distribution equipment. Please see the SCART cable power requirements below to enable the video sync separator to operate. This cable benefits from being screened to minimise electrical interference and all ground pins are connected inside the SCART to avoid compatibility issues.


Power requirements for (CSYNC) video sync separator:
Requires a EuroSCART cable which is wired for either 5 volts or 12 volts on pin number 8 of the SCART plug. This is needed to power up the LM1881 video sync separator circuit and without this required voltage you will not get a stable picture on your monitor. Please see diagram below which shows the location of pin 8 . If there is a wire attached to this pin then you should be good to go. If you are unsure whether your cable is wired correctly please contact us for assistance. All video game console RGB SCART cables from Retro Gaming Cables are compatible with the video sync separator version.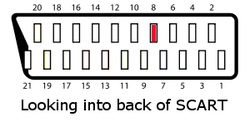 This product has been independantly reviewed by our friends at www.videogameperfection.com.
All cables are tested before dispatch. Made in Great Britain. This is not an official Extron Product.

Compatibility
Region
Pal, NTSC, SECAM
Video and audio format
Sync type
This adapter accepts "sync over composite video", "sync over luma" and "composite sync (CSYNC)". In all three cases the output to the Extron will be "composite sync (CSYNC)" which is achieved using the built in video sync separator.
Audio type
Stereo
Cable construction
Shielded?
YES - Individually shielded mini coaxial cables
Connector A
Female EuroSCART
Connector B
HD15 Male VGA
Connector C
2 x RCA/Phono connectors for left and right audio.
Lead Length
0.5m
Weight
150g
Extron VGA to EuroSCART adapter with CSYNC
Related Products
Bestsellers