Level up with an RGB SCART! This cable supplies an RGB video signal and stereo sound from your Sony Playstation 1 which is far superior than the original video cable. This cable is screened to minimise interference and is wire for sync over luma. Please see comparison pictures using the Retro Gaming Cables RGB SCART compared to a regular composite video cable. It also benefits from internal capacitors connected in series with each RGB video line to remove any direct current (DC) signals, which may impede the true alternating current signal used in signal transmissions. The SCART plug can be wired as either EuroSCART or JP21, the choice is yours! The JP21 option is subject to availability. This cable is available with a built in sync cleaning circuit to achieve Composite Sync (CSYNC) here.
Features:
No Tuning required, just plug and play.

True RGB video & stereo sound.

Constructed from custom screened cable especially made for

Retro Gaming Cables

.
Wired for Sync over luma. For further information on sync types please our Demystifying RGB Sync guide.
Integrated light gun port for use on CRT televisions.
New features
Fully wired/ grounded SCART plug using a custom Printed Circuit Board.

Custom ID label on SCART plug.

RGC custom Multi AV plug with integrated strain relief.

Quality Panasonic capacitors.

Light gun / Guncon port.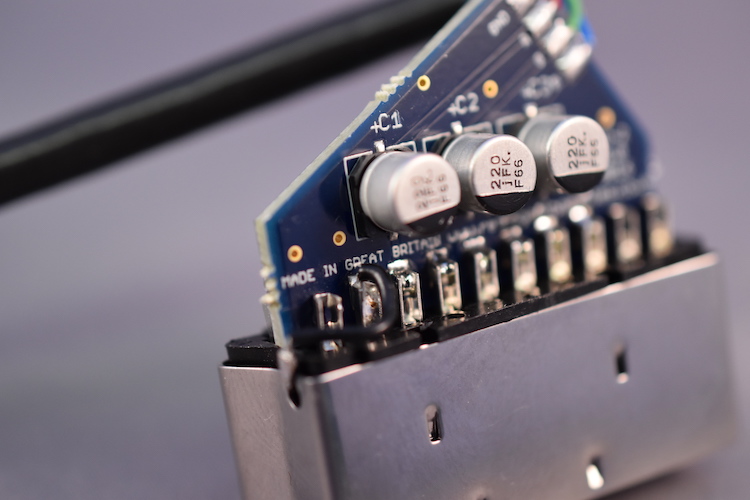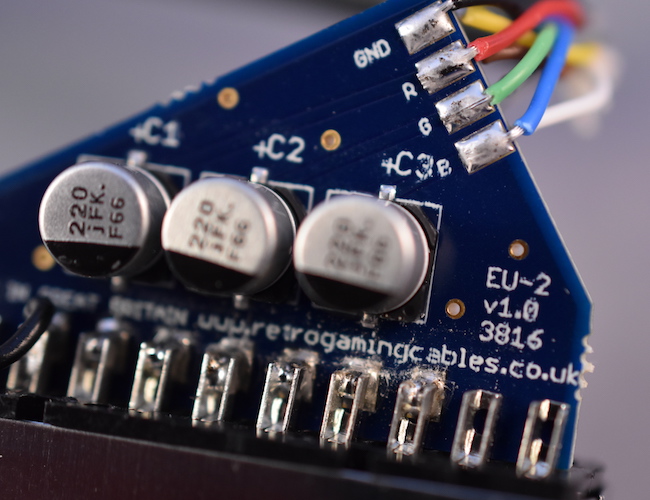 The SCART Printed Circuit Board Design is
Copyright © of Retro Gaming Gables

.


Compatible with:
SCART enabled televisions (Please select EuroSCART / Péritel).
SCART to component video converters (Please select EuroSCART / Péritel).

All cathode ray tube (CRT) televisions only.


Frequently asked questions:
Q. Is this PlayStation SCART cable compatible with all console regions?
A. Yes, this cable works with all PlayStation 1 consoles released world wide, including PAL and NTSC versions.

Q. Will a light gun work on a modern flat screen TV like a plasma, LCD or LED?
A. Unfortunately not, as a light gun will only work on a traditional CRT TV, so if you want to play Time Crisis your gonna have to dust of your old fat TV.

Q. What is the CSYNC version for?
A. Mainly for professional monitors and matrix switches which require a CSYNC signal, like the range of Sony PVM and BVM's, but will work with regular SCART TV's.

Q. Does the CSYNC version work with an external sync cleaner like the Sync Strike?
A. The CSYNC version has a sync cleaner built into the SCART plug, and yes you can use this in series with a second sync cleaner, which you find in some SCART adapter cables like the EuroSCART to Mini adapter and EuroSCART to BNC adapter, and also the Sync Strike.
Made in Great Britain. This is not an official Sony Product. The SCART Printed Circuit Board Design is Copyright © of Retro Gaming Gables.

Compatibility
Console
Sony Playstation 1 and PS1 Slim,
Region
NTSC, PAL
Country
All Countries.
Video and audio format
RGB video?
YES
Sync type
Wired as "sync over s-video luma" (luma sync).
Audio type
Stereo
Cable construction
Shielded?
YES
Connector A
Sony AV Multi Port.
Connector B
EuroSCART / Péritel or JP21/RGB-J (select required version from the options).
Lead Length
1.5m
Weight
110g
PlayStation 1 RGB SCART sync on luma cable lead with Guncon port
Related Products
Tags: rgb, scart, Sony, NTSC, PAL, Video Games Console