Custom made sync stripper board using LM1881 sync separator designed to retro fit into existing SCART cables or can be fitted inside of a console. Supplied with three fly wires already soldered in place for you. Red for power, yellow for sync and black for ground and also heat shrink to cover PCB.
The LM1881 chip takes a "sync over composite video sync" (HSYNC+VSYNC+CVBS) and removes the composite video (CVBS) aspect of the signal, and outputs CSYNC (HSYNC+VSYNC) only which is the cleanest sync signal available when using an RGB SCART cable. This can help with removing unwanted onscreen artefacts, and also a CSYNC signal maybe needed for some monitors which only accept CSYNC. For further information on sync types please our
Demystifying RGB Sync guide
.
The LM1881 does introduce amplification to the CSYNC signal, therefore, you will need to attenuation the output with a resistor. The value of the resistor depends on the console in question. Any queries please contact us and we will advise on the correct resistor value required.
Power requirements for (CSYNC) video sync separator:
Requires a EuroSCART cable which is wired for either 5 volts or 12 volts on pin number 8 of the SCART plug. This is needed to power up the LM1881 video sync separator circuit and without this required voltage you will not get a stable picture on your monitor. Please see diagram below which shows the location of pin 8 . If there is a wire attached to this pin then you should be good to go. If you are unsure whether your cable is wired correctly please contact us for assistance.
All
video game console RGB SCART cables from
Retro Gaming Cables
are compatible with the video sync separator version.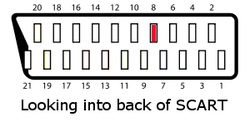 Installation guide for inserting into SCART cable
Follow these instructions in order, and you cannot go wrong (famous last words).
Solder the red wire to SCART pin 8 (This it to power the Sync Blaster).

Desolder the wire from SCART pin 20 (Sync wire).

Solder the yellow wire from the Sync Blaster to SCART pin 20.

Now you have two wires attached slide the heat shrink over the Sync Blaster far enough so you can see the OUT pad still.

Solder the wired you desoldered from pin 20 to the OUT pad on the Sync Blaster.

Solder the black wire to any ground pin which is being unitised on the SCART plug. Normally pin 18 or 17. But only use a ground pin which has an existing ground wired soldered to it.

Centralise the heat shrink over the Sync Blaster and apply

light

heat from a heat-gun until shrunk.

Power requirements
Operating voltage
5-12 volts taken from SCART pin number 8. Or if the SCART cable doesn't have any wires on pin number 8, you can use the RGB trigger wire which is soldered to SCART pin 16, however you need to intercept the signal before the resistor on this wire. Because the resistor no matter what resistance rating is designed to drop the voltage on the wire to between 1 and 3 volts which is used by the TV for RGB selection. The RGB trigger wire will be either 5 or 12 volts which is fine to power the LM1881.
Video and audio format
Sync type
The Sync Blaster can process "sync over composite video" and "sync over luma" signals.
Sync Blaster Stripper PCB with LM1881
Tags: csync