Orders placed will be dispatched week commencing the 10th of January 2022
. To receive future notifications of when stock is available please create an
account
and subscribe to our newsletter, or follow us on facebook and Twitter as we often post updates there.


We don't sell your personal information unlike most Evil Corporations and we only send you newsletters if you have opted in.
Custom made sync stripper board using LM1881 sync separator designed to retro fit into existing SCART cables or can be fitted inside of a console.
The LM1881 chip takes a "sync over composite video sync" (HSYNC+VSYNC+CVBS) and removes the composite video (CVBS) aspect of the signal, and outputs CSYNC (HSYNC+VSYNC) only which is the cleanest sync signal available when using an RGB SCART cable. This can help with removing unwanted onscreen artefacts, and also a CSYNC signal maybe needed for some monitors which only accept CSYNC. For further information on sync types please our
Demystifying RGB Sync guide
.
The output of this LM1881 has a 470Ω resistor to make the CSYNC signal suitable for 75ohm operation. For use on consumer grade televisions, OSSC, Framemeister etc. However, if you require a TTL CSYNC then see
here
.
Power requirements for (CSYNC) video sync separator:
Requires a EuroSCART cable which is wired for either 5 volts or 12 volts on pin number 8 of the SCART plug. This is needed to power up the LM1881 video sync separator circuit and without this required voltage you will not get a stable picture on your monitor. Please see diagram below which shows the location of pin 8 . If there is a wire attached to this pin then you should be good to go. If you are unsure whether your cable is wired correctly please contact us for assistance.
All
video game console RGB SCART cables from
Retro Gaming Cables
are compatible with the video sync separator version.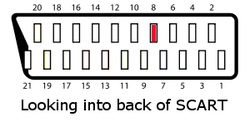 Video and audio format
Sync type
The Sync Blaster can process "sync over composite video", "sync over luma" and also composite sync (CSYNC).
Sync Blaster Stripper PCB with LM1881 470 ohm
Tags: csync