To receive future notifications of when stock is available please create an
account
and subscribe to our newsletter, or follow us on facebook and Twitter as we often post updates there.


We don't sell your personal information unlike most Evil Corporations and we only send you newsletters if you have opted in.
Level up with a PACKAPUNCH PRO RGB SCART! This cable supplies an RGB video signal and stereo sound from your Sony Playstation 1 which is far superior than the original video cable. This cable is screened to minimise external interference and cable crosstalk between signals. This is achieved by using our new PACKAPUNCH cable which has individually shielded wires for RED, GREEN, BLUE, SYNC, audio left and right and also the DC voltage line which is used for RGB selection on your video receiving equipment.
Why upgrade to a PACKAPUNCH cable?:
Protects against external magnetic interference.
Protects against crosstalk between individual signals inside the cable.

Available in various lengths.

All cables which are

not

1.8m are built to order, for example if you choose 3m you will need to wait a few working days.
Features:
No Tuning required, just plug and play.

True RGB video & stereo sound.

Constructed from custom screened cable especially made for

Retro Gaming Cables

.
Supplied as sync over luma. For further information on sync types please our Demystifying RGB Sync guide.
New features
Fully wired/ grounded SCART plug using a custom Printed Circuit Board.

Custom ID label on SCART plug.
RGC custom Multi AV plug with integrated strain relief.

Quality Panasonic capacitors.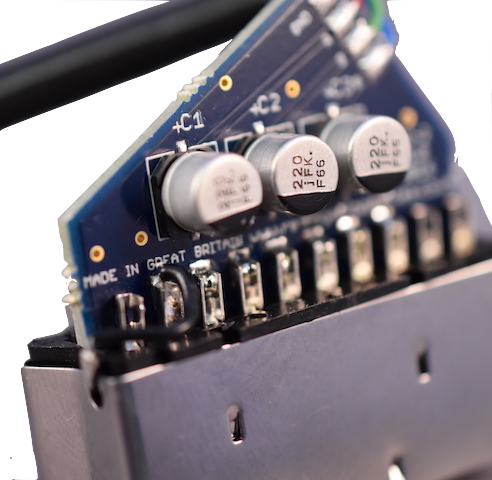 Our PlayStation 1 version has 220uF capacitors on the Red, green and blue lines.
Compatible with:
SCART enabled televisions.

SCART to HDMI converters that support RGB video. Some don't, so please read this.

SCART to component video converters.




XRGB-mini

Framemeister

via

EuroSCART to mini adapter

.



OSSC

(Open Source Scan Converter).
Frequently asked questions:

Q. Is this PlayStation SCART cable compatible with all console regions?
A. Yes, this cable works with all PlayStations 1 consoles released world wide, including PAL and NTSC versions. We do supply separate cables for the PS1 and PS2, as the PS1 doesn't have the 200uF capacitors between the video encoder and the A/V output socket inside the console but the PS2 does, therefore, our PS1 cables have capacitors inside the SCART plug and our PS2 cables does not. This is to ensure maximum electrical compatibility for each console,

Q. What is the CSYNC version for?
A. Mainly for up-scalers like the Framemeister XRGB-mini and professional monitors, like the range of Sony PVM and BVM's, but will work with regular SCART TV's and SCART to HDMI up-scaling boxes.

Q. Does the CSYNC version work with an external sync cleaner like the Sync Strike?
A. The CSYNC version has a sync cleaner built into the SCART plug, and yes you can use this in series with a second sync cleaner, which you find in some SCART adapter cables like the EuroSCART to Mini adapter and EuroSCART to BNC adapter, and also the Sync Strike.
Need to breakout audio from your SCART cable? Check out this in-line adapter which extracts audio whilst maintaining the audio through the SCART cable.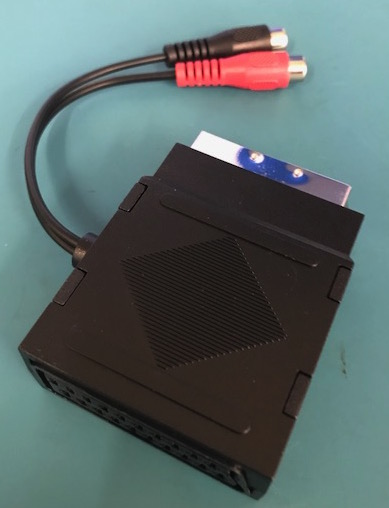 Made in Great Britain. This is not an official Sony Product. The SCART Printed Circuit Board Design is Copyright © of Retro Gaming Cables.
Compatibility
Console
Sony Playstation 1 and PS1 Slim,
Region
NTSC, PAL
Country
All Countries.
Video and audio format
RGB video?
YES
Sync type
Wired as "sync over s-video luma" (luma sync).
Audio type
Stereo
Cable construction
Shielded?
Individually Shielded PACKAPUNCH cable. i.e. Each core inside the cable has its own shielding. Including the following; Red, Green, Blue, Sync, Audio Left, Audio Right and 5 volts line. And this is complemented by an overall foil shield.
Connector A
Sony AV Multi Port. Using our proprietary connector over moulding technology. With our RGC logo embedded on the top side of the connector.
Connector B
EuroSCART - With integrated Printed Circuit Board interface. Which has all the ground pins connected to the SCART plug. Cased in our custom made shroud with our RGC logo embedded either side.
Lead Length
1.8m / 6ft. Also Available as 3m / 10ft on a pre-order basis.
PlayStation 1 PS1 RGB SCART PACKAPUNCH sync on luma cable + Guncon port
Related Products
Tags: rgb, scart, Sony, NTSC, PAL, Video Games Console