To receive future notifications of when stock is available please create an

account
and subscribe to our newsletter, or follow us on facebook and Twitter as we often post updates there.


We don't sell your personal information unlike most Evil Corporations and we only send you newsletters if you have opted in.
Available as fully assembled or PCB only, female EuroSCART to BNC breakout board which also extracts audio from the SCART cable. This board comes with an integrated sync separator circuit which can be switched off.
Power requirements for (CSYNC) video sync separator:
Requires a EuroSCART cable which is wired for either 5 volts or 12 volts on pin number 8 of the SCART plug. This is needed to power up the LM1881 video sync separator circuit and without this required voltage you will not get a stable picture on your monitor. Please see diagram below which shows the location of pin 8 . If there is a wire attached to this pin then you should be good to go. If you are unsure whether your cable is wired correctly please contact us for assistance.
All
video game console RGB SCART cables from
Retro Gaming Cables
are compatible with the video sync separator version.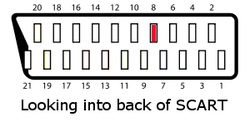 Female SCART to BNC breakout board
Related Products