A/V Cable trouble shooting guide
Purple tint when using Scart to BNC adapter on Sony PVM monitor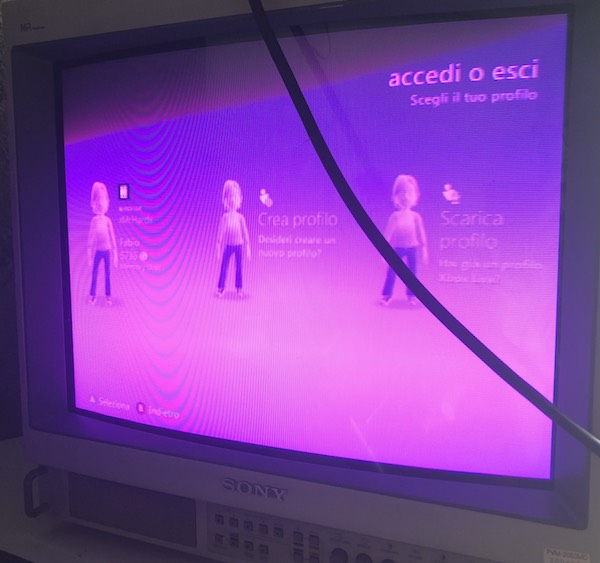 A purple tint on screen suggests that the green BNC wire is not working. But this is not the case. It simply means that monitor is in component video mode (Y-Pb-Pr) and not in RGB mode.
Therefore please refer to your user manual on how to switch your monitor into RGB mode. For more information on this
subject
see
here
.
Black and white image on tv when using a composite AV cable
If you are using a composite video cable on a PAL games console in conjunction with an NTSC television you may experience a black and white picture. This can be resolved by using an RGB SCART cable if the computer/console outputs RGB. The region of the console needs to match the region of the television. For example, if you live in the United States and you have an NTSC console and an NTSC television set, then this cable will be compatible. If you live in Europe and you have a PAL console and a PAL television, then this cable will work. However, if you live in the United Kingdom and you have an imported NTSC console, then this cable will not work on a United Kingdom PAL television as you will get a black and white picture! Instead you will need an RGB SCART cable, which will allow cross region compatibility.
Black and white image on tv when using an RGB SCART cable
A black and white or grey scale image when using an RGB SCART cable is usually caused by region mis-match when the television or up-scaling device (SCART to HDMI converter) is
not
in
R
G
B
mode when the SCART cable is wired for "sync over composite video". Region mis-match is when you are using for example a 60Hz console on a 50Hz TV, or vice versa.
A black and white picture can also occur when using a "sync over luma" RGB SCART cable when the television or up-scaling device is
not
in
R
G
B
mode. And this has nothing to do with region mis-match.
A television or up-scaling device usually requires a trigger signal, also known as RGB selection up (https://en.wikipedia.org/wiki/SCART) which is provided by the RGB SCART cable and this tells the device to switch from composite video mode to RGB mode. This is usually in the form of a 1-3 volts signal from SCART pin 16. If this signal is not present the television or up-scaling device will remain in composite video mode (CVBS) and will result in a black and white / grey scale image. This signal can be missing for a number of reasons, i.e. incorrectly wired SCART cable, faulty SCART cable or use of cheap crappy SCART switch.
Also make sure that you have plugged your SCART cable into an RGB enabled SCART socket. As some televisions with more than one SCART input usually only accept RGB on the first SCART input, and the 2nd and 3rd SCART sockets maybe for composite video, or s-video only.
Finally, some televisions require you to select RGB mode as the input for the SCART, because the SCART can transmit other video formats besides
R
G
B
, including
composite video
,
s-video
and
component video
. So you may need to select the correct input using the remote control. This is usually labelled as "input select" on the remote control, and you need to keep pressing this button until you get a colour image.
No video or sound on tv when using RGB SCART cable
Check that the SCART socket you have plugged the SCART cable into is an RGB enabled port (this is usually AV1 or EXT1) and that your not using a SCART switching box, which may not support RGB, only composite video. Also check that your television is switching into RGB mode correctly. Some TV sets display an 'RGB' message in the top right of the screen for a short duration when selected. This should be automatic when you turn on your console/ computer, however, if this does not occur you maybe able to manually select the RGB channel pressing the Mode/AV select button on your remote control until you hit the RGB channel. Also check that none of the pins are bent on the Audio/video plug and that all the SCART plug pins are straight.
Upon power up the tv switches to RGB mode, however, there is no video or sound
If you are using a ROM cartridge game used commonly with video games consoles, try using a varity of games to see whether the first game cartridge was faulty. Cleaning the copper contacts on the edge connector of a ROM cartridge game will often fix the cartridge. Metal oxidization of the copper contacts over time render the cartridges useless, however, in most cases cleaning the copper contacts with either an electronics cleaning solution or light cleaning with a high grade sand paper can clean the contacts. Do not clean the copper contacts with water and do not submerge the ROM cartridge in water. This can be done by lightly moving a small peice of the sandpaper up and down the copper contacts either side of ythe edge connector and using a dry paint brush the oxide build-up into a bin, in a brushing motion away from the electronics on the ROM cart.
Television shows vertical lines when using a Mega Drive/Genesis via RGB SCART cable
The common cause of the vertical lines occurs when using a regular "sync over composite video" RGB SCART cable. A composite sync or CSYNC RGB SCART cable will significantly reduce the vertical lines, however, you will loose the ability to transmit composite video, which isn't such a bad thing.
Television shows checker board effect when using a Super Nintendo via RGB
SCART cable
When using a regular "sync over composite video" RGB SCART cable for the PAL SNES you may experience a checkerboard effect on solid colours, which can be resolved by using a "sync on luma" RGB SCART cable.
On screen image does not fit television screen - Overscan
If the the top or bottom of the image appears to be obscured you just need to adjust the aspect ratio of the television using the remote control.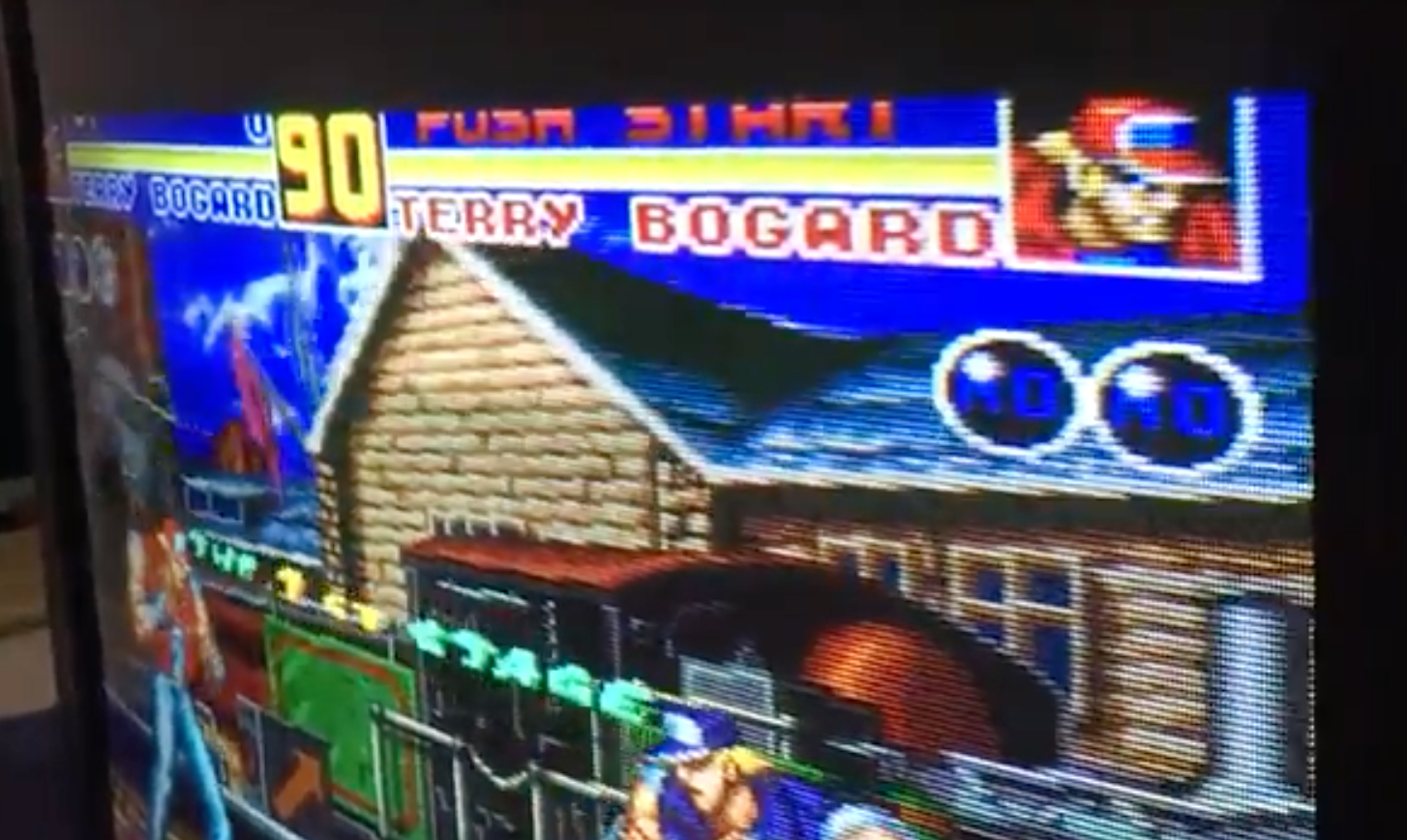 Another common problem sometimes experienced is when one side of the picture is slightly chopped off or cropped. This is an overscan problem whereby the TV is not displaying a true 1:1 ratio picture, as the TV is in zoom mode. This can usually be corrected by adjusting the aspect ratio / picture size of the screen from 16:9 or 4:3 to "fit screen". This can be done using a button on the remote control usually labelled "aspect ratio" or "picture size" or "zoom" etc.
If this does not correct the image size you could try accessing the televisions engineer / maintenance menu. This is a secret menu normally used by engineers to calibrate and fine tune the televisions image and is accessed by an access code which is achieved by
pressing a number of buttons on the remote control in a specific pattern. To find out what the access code for your TV is, you need to Google the make and model of your TV followed by engineers code, service menu code or
maintenance
menu code.
Once
accessed, you should be able to centre the picture using the horizontal and
vertical
image adjustment.
Featured