Demystifying RGB & Sync
This guide is to help demystify some of the confusing terminology used when referring to "sync" and also to advise on the available sync options.
Throughout this guide composite sync is also referred to as CSYNC.
Composite video vs composite sync, FIGHT!
In both cases this can still be an RGB SCART cable. When referring to RGB SCART cables the term composite video can be confused with the more commonly used composite video format (CVBS) which normally uses a cable with two phono plugs (yellow and white) or three phono plugs (yellow, white and red), also known as RCA or Cinch cable. But a phono composite video cable is not the same video format as an RGB SCART cable. An RGB SCART cable transmits on four separate wires (Red - pin 15, green - pin 11, blue - pin 7 & sync - pin 20), which gives it a cleaner picture, as opposed to a phono composite video cable which only uses one wire to handle all the picture data. Sync is a timing signal made up from the horizontal sync (HSYNC) and vertical sync (VSYNC) which tells the television when to correctly display the image. In terms of an RGB SCART the composite video signal is a mixture of sync as described above (which helps construct the RGB screen image) and composite video (CVBS), i.e. "sync or CSYNC over composite video", see
figure 1
. This is in-case the television doesn't support an RGB signal, therefore, you will still get a picture via composite video, be it a poorer image compared to RGB. Therefore the "composite video" option is both the CSYNC signal (for RGB timing) and actual composite video (CVBS) both mashed together down the same wire (SCART pin 20). A composite sync or CSYNC RGB SCART supplies a clean timing signal without composite video interlaced on the same wire, as seen in
figure 2
which gives a clearer picture in some cases. Composite sync is also sometimes referred to as "pure sync", "clean sync" or "CSYNC".
Boosted sync is the
practice
of adding an inline
amplifier
to boost the sync
signal, which is something that we have
never
done or advocated, as this may damage your video monitor or up-scaler.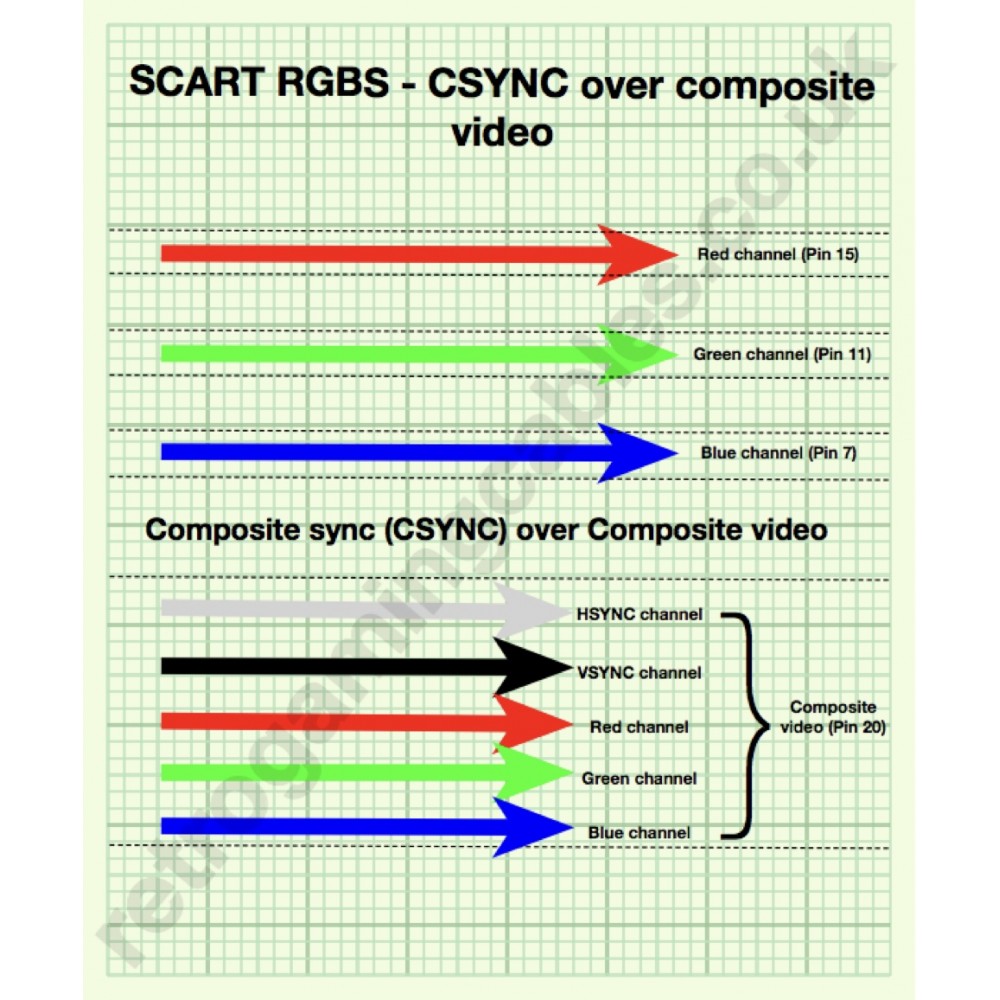 Figure 1. CSYNC over composite video format is transmitted over four wires to SCART pins 15, 11, 7 and 20.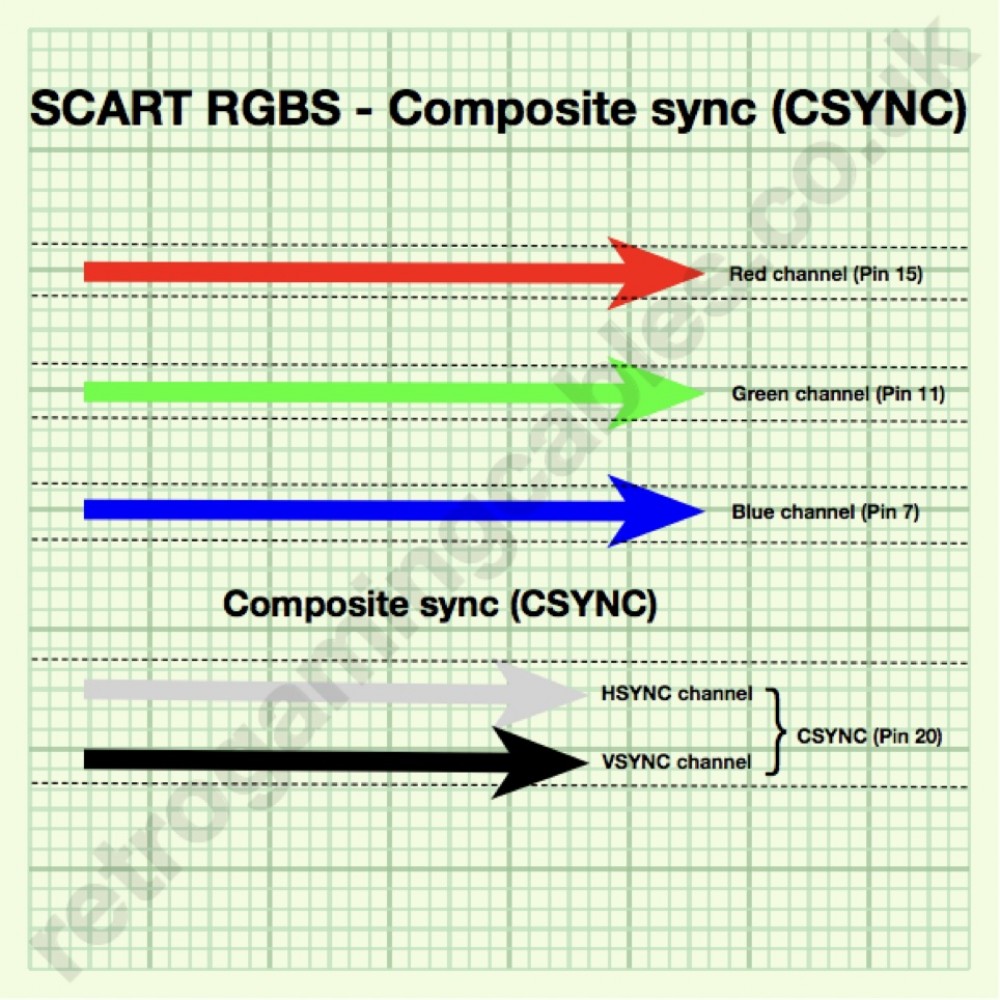 Figure 2. Composite sync (CSYNC) format transmits only the horizontal and vertical sync information to SCART pin 20.
Advantages of composite sync
A composite sync RGB SCART cable can reduce a video effect often referred to as jail bars, which are faint on-screen horizontal lines displayed throughout game play and are more noticeable on patches of solid colours, and when using a modern flat screen television in-conjunction with a sync over composite video RGB SCART. This is due to the amount of channels occupying one wire and in the case of composite video this totals five (red, green, blue, VSYNC & HSYNC) as seen in
figure 1
, so cross-over interference is a common problem. This effect is legendary on the
Sega Mega Drive / Genesis model 1
&
model 2
when using a "sync over composite video" RGB SCART cable, however not exclusively reserved to those Sega consoles. Luckily both Mega Drive / Genesis consoles output composite sync as well as composite video, therefore, you just need an RGB SCART wired to support composite sync, and bingo! No more jail bars. Another problem often experienced with sync over composite video RGB SCART cables are sync issues when connecting consoles to video up scalers like the Framemeister XRGB mini. Problems includes screen drop-offs resulting in a blank screen during game play and also another effect called dot crawl. These two problems can occur with the Super Nintendo, NTSC version, but can be cured using a composite sync RGB SCART cable, YAY!
Composite sync extracted from composite video? What is this black magic?
Unfortunately the most commonly used format in the world of retro gaming after-market cables is the sync over composite video RGB SCART cable, including those cheap arse cables of eBay (oops). Consoles which can output composite sync include the Sega Mega Drive / Genesis 1 & 2,
Super Nintendo
(NTSC),
Neo Geo AES
,
Atari Jaguar
,
Sega Saturn
(JAPANESE model) etc. For consoles which only output sync over composite video, there is a solution. The composite video aspect of the video signal can be removed using a special circuit called a sync separator, sync cleaner or sync stripper as seen in
figure 3
. This removes the composite video signal and leaves a clean composite sync signal. A sync separator circuit can be inserted directly into a SCART plug and the voltage needed to power the circuit is drawn directly from the console and works without any problems. For consoles which don't output composite sync for example the
Original Xbox
,
Sony Playstation
,
Super Nintendo PAL
,
Sega Saturn PAL
and
Nintendo Gamecube Pal
we supply these cables with a built in sync separator circuit called an LM1881 which is a surface mount chip attached to our custom printed circuit SCART board, as seen below. Or r
etrofit your existing RGB SCARTs with our
Sync Blaster PCB
, which incorporates an LM1881 sync separator board.


Custom PCB mounted to SCART plug






Figure 3. Composite sync (CSYNC) extracted from composite video signal using sync cleaner.
Another solution - Sync over luma
Composite sync can also be extracted from s-video (where available). This is taken from the luma line of s-video (s-video uses two wires called luma and chroma). This option is only available for consoles which output s-video as well as RGB video, and is the best option for when composite sync (CSYNC) isn't available. For example the
PAL Super Nintendo
does output RGB video, however the sync is transmitted over composite video and there is no separate composite sync option, however, the console does output s-video, therefore, the composite sync over luma can be used instead as seen below in
figure 4
.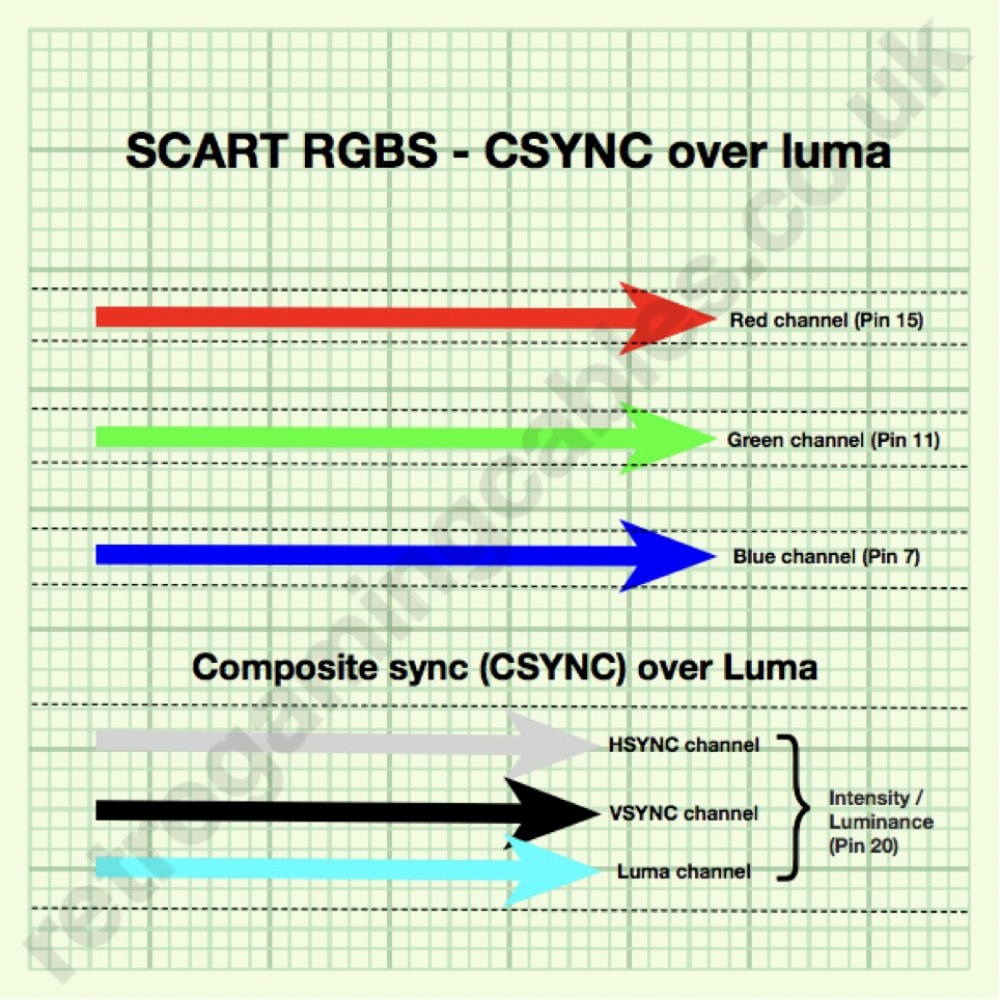 Figure 4. Sync over luma, which has less channels on SCART pin 20 compared to sync over composite video which uses 5 channels. Hence less cross-over interference.
Composite sync (CSYNC) applications
Composite sync cables are needed when using Extron matrix switches and some professional broadcast/medical monitors for example the Sony PVM 2950G and 2950QM which require a composite sync signal as standard to function, but you can still use a composite sync cable on regular televisions, which will give you the best possible analogue RGB video achievable.
The RGB format requires a synchronising signal called composite sync (CSYNC) which is composition of Horizontal and vertical signals, so hence the name "composite" sync, as both signals are mixed together down the same signal wire. CSYNC resolves drop out issues on the xrgb-mini and also removes on-screen anomalies like checker board effects on the SNES and jail bars on the Mega Drive/Genesis. In an ideal world all SCART cables would use composite sync, however, this is not the case as I will explain below.
A lot of games consoles manufactures decided to mix the composite sync (CSYNC) signal over another signal called composite video (CVBS) resulting in three signals down one wire, namely horizontal sync + vertical sync + CVBS. I like to call this situation "sync over composite video". Some consoles do output CSYNC when using the correctly wired SCART cable, for example the following consoles can output CSYNC including the Atari Jaguar, SNES (NTSC), Super Famicom, Mega Drive etc. For consoles which don't output CSYNC you can add a sync cleaner in the loop to achieve CSYNC.
Ultimately the best format to use is composite sync (CSYNC) as this only consists of two channels of information transmitted to SCART pin 20, namely HSYNC and VSYNC. And the less channels occupying one signal wire means less interference.
For more information on sync see My Life in Gaming RGB 103 video below which goes into depth on the subject.
Featured